Actualités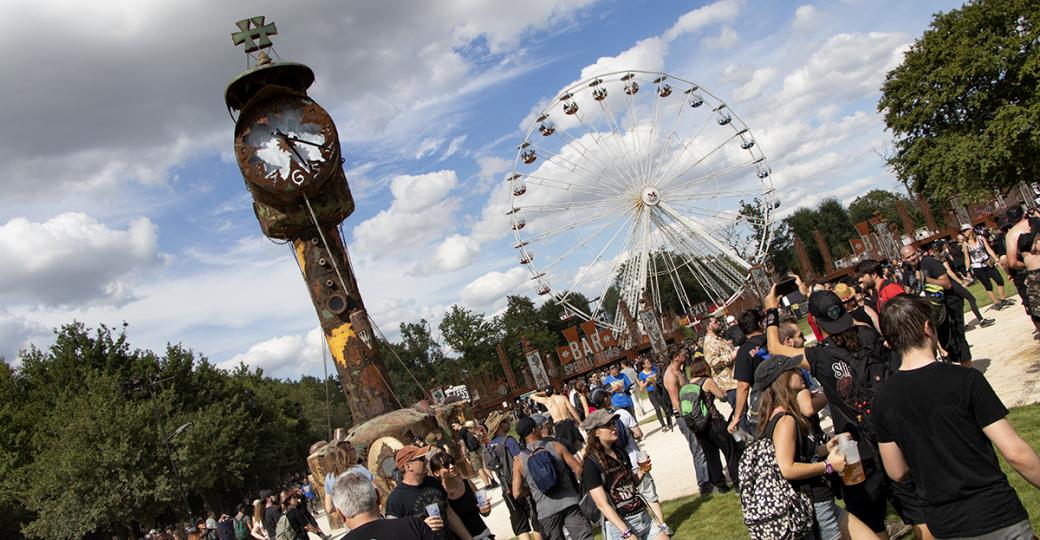 Point sur la semaine dernière : le Wintower, Astropolis Hiver et Reperkusound complètent leur prod, Avec le Temps prolonge l'annonce de ses artistes éclectiques, le Hellfest annonce son line up complet, et les premières têtes d'affiche sortent pour le Chorus Festival, Marsatac, et Mégascène.
Janvier
Festival du Schmoul, 24 au 25 janvier 2020 - Bain-de-Bretagne (35)
Fresh Fries, Guadal Tejaz
Février
GéNéRiQ Festival, 6 au 9 février 2020 - Dijon, Besançon, Mulhouse (21)
The Inspector Cluzo, Jok'Air, 404, Alcest, Atoem, Bandit Bandit, Birds In Row, Dan Deacon, French 79 Live, Gabriel Auguste, HO99O9, Jardin, KÆLAN MIKLA, Mikal Cronin, Mottron, N'To, Otoboke Beaver, Popof, Shannon Lay, Squid, Stuffed Foxes, The Inspector Cluzo, Videoclub, Warmduscher, Yseult
Hibernarock, du 7 février au 8 mars - Aurillac (15)
Chloé Nacan, Eiffel, Nach, The Bongo Hop, Trans Kabar, Orouni, Lombre, Belfour, Mes souliers sont Rouges, Gemma,
Festival Astropolis, 11 au 16 février 2020 - Brest (29)
Ari De B, District Sampling, Antoine Garrec, DJ Streaks, Poing, Trampfire, Hello Paris, Raymond d.Barre, Gwendoline, Gavin B2B ROM La Singerie, Atlantic, Yann Polewka, Pipholp, John Faustus, 440 HZ, Vanadis, Arabica, Théo Muller, Bracco, Monolithe Noir, DJ Varsovie, Clara! Y Maoupa, Parrish Smith, Sherelle, Moxie, Giant Swan, Lotus Eater, Sama, Folamour, DJ Pierre
Wintower, du 21 au 23 février 2020 - Lyon (69)
Zimmer, Texas Menthol, Alpha et Zajazza, Ultramoule, An Eagle in Your Ming, Conga FM, Mangabey
Mars
Avec Le Temps, mars 2020 - Marseille (13)
Vladimir Cauchemar, Lous and the Yakuza, Yseult, Fixpen Sill, Clara Ysé, TESSÆ, Tallisker; Baltazar, Montanaro, Mohamed Lamouri, Louise Verneuil, Julien Granel, Roxaane
Festival Chorus, 25 au 29 mars 2020 - Hauts-de-Seine (92)
Booba
Avril
Panoramas Festival, 10 au 12 avril 2020 - Morlaix (29)
Billx, Bon Entendeur, Calling Marian, Graviity, Hilight Tribe, Kikesa, Koba LaD, Maissouille, Mila Dietrich, Mr Oizo with special guest, Eric, Rakoon, Sentimental Rave, Six ou Sept, Suzane, Ann Clue, Artbat, Boyz Noize, Camion Bazar et la Mamie's, Chilla, Deniz Bul, DI#SE, Jok'Air, Josman, N'To, Popof, S3A, Sam Paganini, Shugi, Todiefor, Yuksek
Reperkusound, 10 au 12 avril 2020 - Villeurbanne (69)
Boris Brejcha, Panda Dub, Ann Clue, Mezerg, The Sovietikk, Tohpkitap, Madben DJset, Minimum Syndicat, La Fraicheur, Romane Santarelli, Nure, Droplex Vs Markus, Volker, G-Alien, Dr Fractal, Lethyx Nekuia, Aora Paradox, Stephanie Sykes, Luna Vassarotti, Angel Karel, Vel, Pendulum DJset, Hilight Tribe, Biga*Ranx, Kanka, Dubanko Meets Woody, Vibes, Dr Peacock, Billx, Maissouille, Venom VS Ketamane, Remzcore, Empira, Belik Boom, Ex Echo, Hypnotik Peafowl, Radikal Guru - Solo, Bisou, Ashkabad, Rose Well, Taïki Nulight, Cause and Affect, 24HR Garage Girls, Badjokes, Will.8, Deadbeat UK x Forca x DR, Cryptic, Deluxe, Fakear, Dooz Kawa, Rakoon, Dope D.O.D, Casual Gabberz, Suzane, Gambeat Radio Bemba, Sound System, Julien Granel, Brutal Oppozitz, 999999999, Regal, Vortek's Vs Teksa, R-ZAC, MAB vs Cousin Vic, Flo The Kid, Kanchi x Robinson, Yudimah, Human Pattern, The Caracal Projet, Madadrive
Mai
Jazz sous les Pommiers, du 15 au 23 mai - Coutances (50)
Ibrahim Maalouf, Orchetre National de Jazz "Dracula", Anne Paceo "S.H.A.M.A.N.E.S", Kokoroko, Kenny Barron trio, Ernest Reijseger & Concordu e Tenore de Oroseï, Les Tambours du Rajasthan, Edmar Castaneda & Grégoire Maret, Michelle David & The Gospel Sessions, Dave Liebman, Randy Brecker, Marc Copland 5tet avec Drew Gress et Joey Baron
Juin
Hellfest, du 19 au 21 juin - Clisson (44)
Faith No More, System Of A Down, Body Count, Deftones, Social Distortion, Envy, Judas Priest, Incubus, Darkness, Deftones, Leprous, Ego Kill Talent, Soen, Frog Leap, Volbeat, The Offpring, The Inspector Cluzo, Danko Jones, Laura Cox, Obituary, Death DTA, At The Gates, Entombed A;D., Grave, Unleashed, Cadaver, Necrowretch, Tremplin Voice Of Hell, Abbath, Mayhem, Abbath, Rotting Christ, Primordialn The great Old Ones, Seth, Mephorash, Numen, Tremplin Voice Of Hell, Electric Wizard, Karoness, OM, Witchcraft, Black Moutain, Elder, Body Count Feat Ice-T, Suicidal Tendencies, Powerflo, Youtg Of Today, Dog Eat Dog, Slapshot, Jesus Piece, Higher Power, Faith No More, Infectious Grooves, Alter Bridge, Heaven Shall Burn, Thy Art Is Murder, Crystal Lake, Fire From The Gods, Deep Purple, Airbourne, Steel Panther, Alestorm, The Darkness last in Line, L7, The Dead Daisies, Galactic Empire, Sepultura, Sacred Reich, Flotsam And Jetsa, Exciter, Loudblast, Xentrix, Rectal Smegma, Wardruna, The Hu, Ensiferum, Taake, Kampfar, Einherjer, Envy, Mono & the Jo Quail Quartet, John Garcia & The Band of Gold, High On Fire, Pelican, Distortion Social, The Toy Dolls, Agnostic Front, Reverand Horton Heat, Anti-Flag, Frustration, Guerilla Poubelle, Lion's Law, Grade 2...
Marsatac, du 26 au 28 juin 2020 - Marseille (13)
Psy4 de la Rime
Juillet
Mégascène, du 3 au 4 juillet 2020 - Saint-Colomban (44)
Roméo Elvis
Montélimar Agglo Festival, du 3 au 4 juillet 2020 - Montélimar (26)
M. Pokora, Maitre Gims
Les Déferlantes, du 8 au 11 juillet 2020 - Argelès-sur-Mer (66)
Soprano, Roméo Elvis, Angèle, Ninho, Simple Minds, Lomepal, Jean-Louis Aubert
Les Nuits de Saint-Jacques, du 17 au 19 juillet 2020 - Le Puy en Velay (43)
-M-, Jean-Louis Aubert
Festival de Nîmes, du 18 juin au 20 juillet 2020 - Nîmes (30)
Dropkick Murphys, Les Négresses Vertes, Deep Purple, MIKA, Catherine Ringer
Festival de Néoules, du 22 au 25 juillet 2020 - Néoules (83)
Les Tambours du Bronx, Les Ramoneurs de Menhirs, La P'tite Fumée, Naâman, Soom T And The Stones Monx, Danakil, L'Orchestre National de Barbès,
La Foire aux Vins d'Alsace, du 24 juillet au 2 août 2020 - Colmar (68)
Jean-Baptiste Guegan, Angèle, Tsew the Kid, Roméo Elvis, Thérapie Taxi, Mika, Clauido Capeo, Deep Purple
Août
Motocultor Festival, du 13 au 16 août 2020 - Saint-Nolff (56)
Skald, Denez, Plantec
Crédit photo : Kilian Roy