Actualités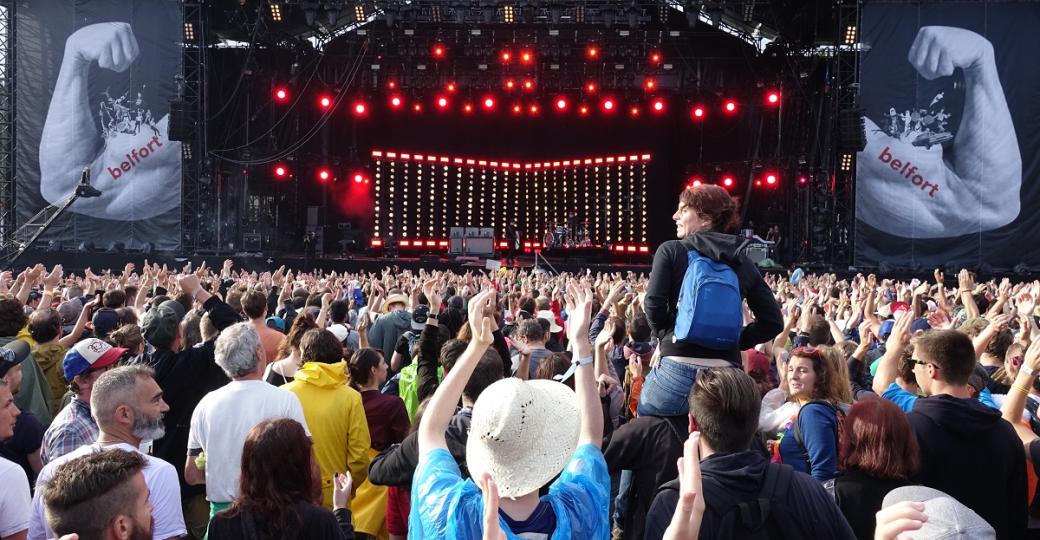 La saison approche et les festivals complètent peu à peu leur programmation, le festival Roi Arthur remet Excalibur dans son socle pour une nouvelle édition, un groupe de punk reprend du Disney à Paris. Point sur les annonces des festivals français de la semaine dernière.
Mai
Punk Fiction, du 18 au 20 mai - Paris (75)
Justin(e), Pink Flamingos, Animal Punk Rock from LH, The Attendants, Contractions, Joe McMahon & The Dockineers, Massaw, Moi Prems "Braillent Disney"
Juin
L'Edition Festival, du 7 au 10 juin - Marseille (13)
Camille, L'Impératrice, Témé Tan, Daedelus, Danton Eeprom Live ! Band !, Mondkopf, Hollydays, Jean Tonique, Johan Papaconstantino
La Chinerie Festival, du 8 au 10 juin - Lyon (69)
Awesome Tapes From America, Bavoog Avers, Beau Mot Plage, Black Zone Myth Chant, Bufiman, Casa Voyager, César et Jason, Chester, Claro Intelecto, Clémentine, Crk, D.Tiffany b2b Roza Terenzi, Disques Flégon, Dj Python b2b Dj Xanax b2b Dj Wey, Dj Sotofett, Donna Leake, Dusty Fingers, Elea Braaz, Ernestas Sadau, Essaie Pas, Fantastic Man, Faktiss, G-High Djo, G2S b2b Kaffé Crème, Habibi Funk, Ichon, Invisible City Soundsystem, Issaba, Jane Fitz, Jk Flesh, Kacem Wapalek, La Base, Lamache, Le Loup, Les Yeux Orange, Leo, Lns, Lumbago, Malouane, Marcellus Pittman, Marina Trench, Maukook b2b Sturmtruppen 1917, Myth Syzer, Netsh, Nu Guinea, Oko Dj, Pascal Viscardi, Privacy, Project Pablo, RBDP, Realitycheck, Rolyporter, SAM, Sanjib, Saoirse, Sentiments, Sonja Moonear, Stenny, Sweely, The Mauskovic Dance Band, Umfang, Voigtmann, Woodie Smalls, Young Marco, Zadig, Zozo
Maison Laffitte Jazz, du 8 au 17 juin - Maison Laffitte (78)
Hommage à Didier Lockwood, Thomas de Pouquery, Supersonic, Bireli Lagrène invite Stochelo Rosenberg, Roberto Negro, Théo Ceccaldi, Mathias Levy, Pierrick Pedrom, Peditro Martinez, Antonio Farao, Myles Sanko
Juillet
Les Eurockéennes de Belfort, du 5 au 8 juillet - Belfort (90)
Shaka Ponk, Hamza, Eddy de Pretto, Rilès, Moha La Squale, Lomepal, Beth Ditto, Juliette Armanet, Sophie, Sampha, The Black Madonna, The Blaze, Dead Cross, Nothing But Thieves, Insecure Men, Portugal.The Man, Baloji, Bcuc, Carnage, Caroline Rose, Chronixx, Dream Wife, Faka, Fatimata Yamaha, FFF, Goldlink, Iamddb, Insecure Men, Juliette Armanet, Jungle, Kiddy Smile, Leon Bridges, Marlon Williams, Michelle David & The Gospel Sessions, Nakhane, Nothing But Thieves, Our Girl, Pihpoh, Rich Brian, Ski Mask The Slump God, Superorganism, Tank & The Bangas, The Liminanas, Touts, Truckks, Viagra Boys, Warmduscher, Wednesday Campanella, Zeal & Ardor
Les Bouffardises, le 7 juillet - Coux-&-Bigaroque (24)
BellARB
Festival Terres du Son, du 6 au 8 juillet - Monts (37)
Lomepal, Nemir, Her, Juliette Armanet, Thé Vanille, L'Impératrice, The Liminanas, Joris Delacroix, Yuksek & Fatnotronic, 2manydjs, Chronixx, Synapz, Lehmanns Brothers, Tiloun, Thé Vanille, Ctrl-Z, L'Impératrice, La Mverte, Caje, Birdstone, Dissident, First Draft, Le Carré, Baxter Dury, Ghetto Kumbé, Revivor, Jim Ballon, Scratchophone Orchestra, Irène Dresel
Pointu Festival, du 7 au 8 juillet - Six-Fours-les-Plages (83)
Godspeed You! Black Emperor, Thee Oh Sees, Carpenter Brut, Sleaford Mods, Fidlar, Suuns, Spring King, Fu Manchu, Deap Vally, Flashing Teeth
Montjoux Festival, du 12 au 14 juillet - Thonon-les-Bains (74)
Gael Faye, Part-Time Friends
Dub Camp Festival, du 19 au 22 juillet - Joué-sur-Erdre (44)
Luciano, Jah Mason, Wackies meets Milton Henry, Marcus Gad, Haspar, Higher Meditation, Invalved Sound System, NS Kroo, The Roots Travellers, WoodBlocks, The Chronicles, Cutting Edge (Kumi Hi Fi), Simba Roots Hi-Fi, Manu Discomix, Cam Go & Jaman, Rootikal Vibes, Real Rockers, Steppin Forward, l'Ensemble National de Reggae
Festival Au Pré du Son, le 21 juillet - Livré sur Changeon (35)
Tha Trickaz, Azano
Albertville Jazz Festival, du 25 au 29 juillet - Albertville (73)
The Glossy Sisters, Eym Trio, Zozophonic Orchestra, Elina Duni, Phasm, Uptake Quertet, Daniel Zimmerman, Fred Nardin, Jon Boutellier
Binic Folks Blues Festival, du 27 au 29 juillet - Binic (22)
Kaviar Special, Hoa Queen, Rhyece O'Neill & The Nardonicks, Mark Porkchop Holder, Infinity Broke, Shake It Like A Caveman, Magnetix, Mister Airplane Man, Endless Boogie, Bench Press, Flat Worms America, Dj Fanta, Dj Crocodile, Dj Francis
Festival Paille, du 27 au 28 juillet - Metabief (25)
Ofenbach
Liquid Dub Festival, du 27 au 28 juillet - Saint-Jouvent (87)
Biga Ranx, High Tone, Caballero & Jeanjass, Dj Pone, Biffty & Dj Weedim, Chill Bump, L'Entourloop, Chaton, Atili, Blundetto, Telli Brigante, Supra Mana, Pauline Diamond, Green Cross, Damé, Arkabash, Art-X, Don Camilo, Prendy, O.B.F Sound System
Little Festival, du 31 juillet au 3 août - Seignosse, Hossegor, Capbreton (40)
Ann Clue, Boris Brejcha, Claptone, Dabeull, Ethyène b2b Cody Currie, Felix Kröcher, La Fine Equipe, Lazare Hoche, Louie Cut, Julian Jeweil, Oxia
Août
Reggae Sun Ska, du 3 au 5 août - Vertheuil (33)
Chinese Man, Stand High Patrol, The Selecter, Ken Boothe, Mellow Mood, Pierpoljak, Mo'Kalamity, Jah 9, Legal Shot Sound System
Les Aoûtiennes, du 9 au 11 août - Bandol (83)
Lost Frequencies, 2manydjs, Soulwax, Head on Television
Hoop Festival, du 10 au 11 août - Excideuil (24)
Ua Tea, Mezerg
Festival de Malguénac, du 16 au 19 août - Malguénac (56)
Black Art Jazz Collective, Dinosaur, Hymn For Her, Joëlle Léandre, Jean Luc Cappozzo, Chlorine Free, Charkha, Jack Titley And The Bizness, The Swinging Dice, Feule Caracal
Festival Roi Arthur, du 24 au 26 août - Bréal-sous-Montfort (35)
Albatross, Theo Lawrence & The Hearts, Les Négresses Vertes, Fatoumata Diawara, Parov Stelar, Marcel et son Orchestre, MEUTE, IAM, Alltta, The Inspector Cluzo, Barcella, Groundation, Hippocampe Fou, Ukuleleboboys, Martin Solveig, J.Bernardt, Noel Gallagher, Gunwood, Parcels, La Chiva Gantiva, Hoshi
Novembre
Pitchfork Music Festival, du 1 au 3 novembre - Paris (75)
Bon Iver, Fever Ray, Mac DeMarco, Blood Orange
Crédit photo : Jaufret Havez